LLAMADO A APORTACIONES | LIBRO | Cultural Studies and Marxism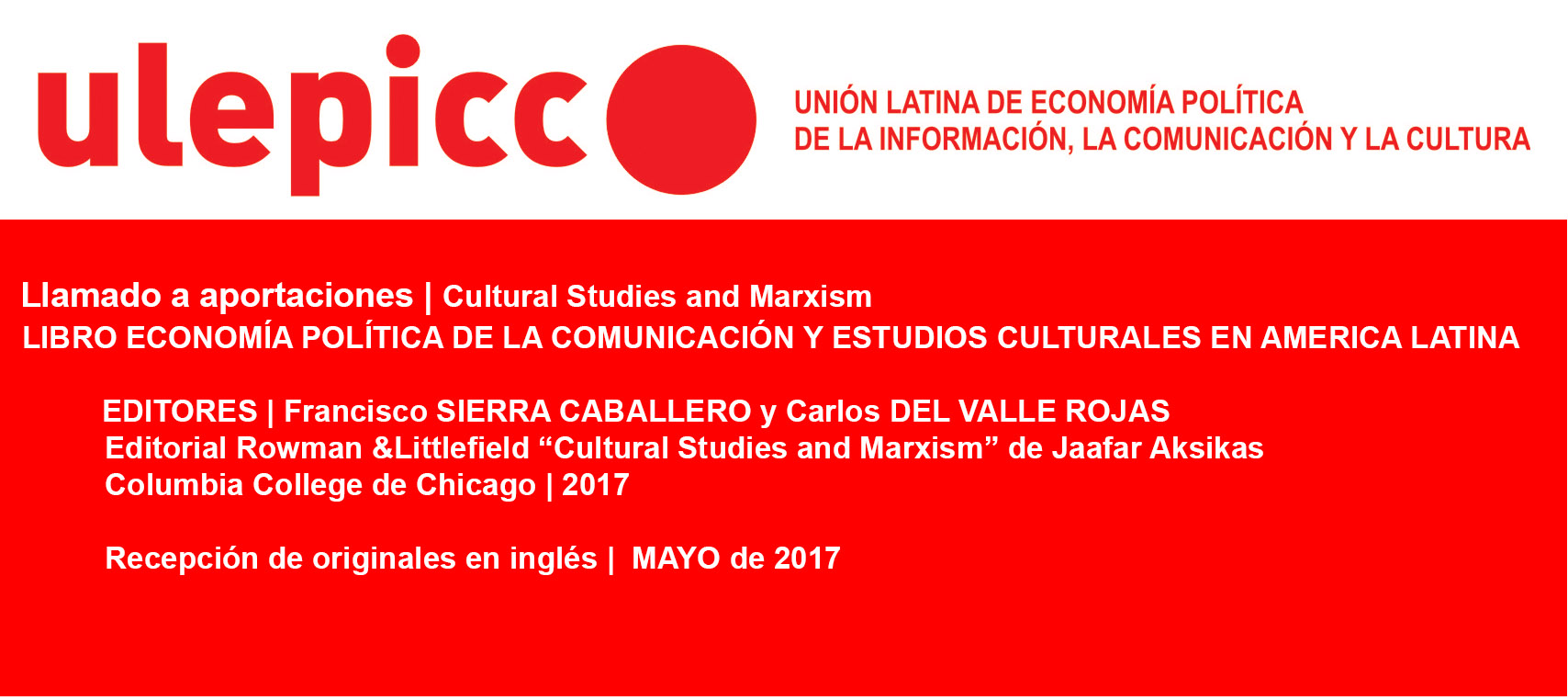 ECONOMÍA POLÍTICA DE LA COMUNICACIÓN Y ESTUDIOS CULTURALES EN AMERICA LATINA (PDF)
Editores
Francisco SIERRA CABALLERO
Carlos DEL VALLE ROJAS
PRESENTACIÓN
La presente propuesta se incluye en la colección de la editorial Rowman & Littlefield "Cultural Studies and Marxism" de Jaafar Aksikas (Columbia College de Chicago). La serie de estudios culturales y marxismo es una contribución oportuna y valiosa al campo más amplio de los estudios culturales contemporáneos. La crisis capitalista global del siglo XXI ha suscitado un renovado interés por la economía política crítica y la teoría marxista. Al mismo tiempo, las instituciones editoriales comprometidas con una articulación entre los estudios culturales, la economía política crítica y el marxismo son casi inexistentes. La convocatoria asume esta situación y genera precisamente un espacio para lograr la intersección de estos tres campos.
El objetivo de la serie es publicar importantes contribuciones teóricas, así como empíricas e históricas como base de un vigoroso debate intelectual y un intercambio entre investigadoras/es de los estudios culturales y críticos. Estamos convencidos que este proyecto será una importante contribución a la revitalización y renovación del proyecto intelectual comprometido políticamente de los estudios culturales. Esta serie también pretende ser un aporte a la producción de conocimiento útil, que nos permita cambiar el mundo social en el cual vivimos y hacerlo más humano.
La serie será revisada por pares y publicará trabajos originales. El propósito es incluir una amplia gama de voces, prácticas, formatos, enfoques, posiciones e intereses de la tradición crítica latinoamericana en Economía Política de la Comunicación y Estudios Culturales.
JUSTIFICACIÓN
El redescubrimiento de lo propio, como empoderamiento del pensamiento y la realidad latinoamericana, se traduce a partir de la obra de autores como Luis Ramiro en la emergencia de una nueva Comunicología, en la reivindicación de la diferencia y, al tiempo, en el cuestionamiento y antagonismo de la norma y el pensamiento dominante de la modernización occidental y la ciencia neopositivista hegemónica en el Norte. Así, por ejemplo, con el movimiento NOMIC y, posteriormente, la defensa del Informe McBride, América Latina, con Luis Ramiro Beltrán a la cabeza, lideraría el debate sobre el acceso a la información y la democratización de la comunicación como componente fundamental de los Derechos Humanos, lo que marcaría un punto de inflexión en las agendas de investigación. La filosofía de la praxis es la razón que habría de animar al maestro a convertirse en el eje de articulación del frente del NOMIC, como impulsor de la Conferencia de San José de Costa Rica, y, más allá, en abogado defensor del concepto sistemático e integral de Políticas Nacionales de Comunicación.
En este empeño, los editores de este volumen colectivo convocan a la comunidad académica a repensar el papel de la comunicación y las culturas populares en el nuevo escenario de crisis global del capitalismo para poner en común y difundir los avances científicos en materia de economía, política y estructura de la información, y los Estudios Culturales que América Latina ha venido propiciando desde una visión diferenciada y crítica de la subalternidad o periferia.
Fiel a su tradición de red de articulación de voluntades y coordinación de esfuerzos críticos-reflexivos sobre el campo de la comunicación y la cultura, la convocatoria de este llamada a trabajos tiene por objeto, en suma, dar cuenta del pensamiento más avanzado en la materia, a fin de formular una crítica teórica fundamentada así como análisis innovadores sobre las emergencias y alternativas democráticas de progreso que han de ser pensadas geopolíticamente en la región a partir de nuevas matrices y herramientas analíticas.
INFORMACIÓN PARA LOS AUTORES
La propuesta de libro o llamada a trabajos se enviará con este documento a un correo unificado a las listas de ULEPICC, IAMCR, ALAIC y CIESPAL. Todos los originales han de ser remitidos al correo franciscosierra@ulepicc.org con ficheros adjuntos que incluyan tablas, gráficas y representaciones debidamente numeradas
Plazos:
Cierre de recepción de originales en inglés: Mayo, 2017
Discusión y correcciones de originales: Junio-Agosto, 2017
Envío a editorial: Septiembre, 2017
El volumen estará organizado en dos grandes bloques o ejes de abordaje:
I.- Teoría e Historia de la Investigación Latinoamericana.
II.- Nuevas Perspectivas de Análisis.
TEXTOS DEFINITIVOS / NORMAS DE ESTILO
Los textos deben estar redactado en idioma inglés y contener los siguientes elementos:
Título.
Breve biografía del autor (150 a 200 palabras).
Cuerpo del trabajo.
Bibliografía.
Extensión: La extensión de los trabajos será entre ocho mil (8.000) y diez mil (10.000) palabras. El total de palabras incluye:
Título.
Biografía.
Cuerpo del trabajo.
Bibliografía.
Formato de presentación: El texto deberá tener una tipografía Times New Roman 12 pts. a espacio simple, en tamaño de página A4. El archivo debe ser enviado en formato Word, siguiendo las normas expuestas en la American Psychological Association, APA, 6ta. edición.
EDITORES
Dr. Francisco SIERRA CABALLERO. Director General de CIESPAL. Catedrático de Teoría de la Comunicación e Investigador del Instituto Universitario de Estudios sobre América Latina (IEAL), Francisco SIERRA es  Director del Grupo Interdisciplinario de Estudios en Comunicación, Política y Cambio Social (www.compoliticas.org) y Editor de la Revista de Estudios para el Desarrollo Social de la Comunicación (REDES.COM) (www.revista-redes.com). Experto en políticas de comunicación, nuevas tecnologías y participación ciudadana de la Unión Europea, ha impartido clases y conferencias como profesor invitado en prestigiosas universidades de toda América Latina, además de los más prestigiosos centros de investigación y universidades de España, Portugal, Francia e Italia. Autor, entre otras publicaciones, de "Políticas de comunicación y educación. Crítica y desarrollo de la sociedad del conocimiento" (Gedisa, Barcelona, 2006) y "Elementos de Teoría de la Información" (MAD, Sevilla, 1999), es Fundador y Vocal Directivo de Relaciones Internacionales de la Asociación Española de Investigación de la Comunicación (AEIC). En la actualidad, es Presidente de la Unión Latina de Economía Política de la Información, la Comunicación y la Cultura (www.ulepicc.net ) y Presidente interino en funciones de la Confederación Iberoamericana de Asociaciones Científicas en Comunicación (CONFIBERCOM).
Dr. Carlos DEL VALLE ROJAS. Profesor Titular y Decano de la Facultad de Educación, Ciencias Sociales y Humanidades en la Universidad de La Frontera, Chile. Periodista, Licenciado y Magíster en Comunicación por la misma Universidad. Doctor en Comunicación por la Universidad de Sevilla, España. Postdoctorado en el Programa Avanzado de Cultura Contemporánea de la Universidad Federal de Río de Janeiro, Brasil. Realizó una investigación Posdoctoral en Comunicación en la Universidad de Oklahoma, Estados Unidos. Integra el Equipo Director científico de la Unión Latina de Economía Política de la Comunicación y la Cultura, ULEPICC. Miembro del Consejo Consultivo de la Asociación Latinoamericana de Investigadores de la Comunicación, ALAIC. Investigador en FONDECYT de Chile y acreditado en CNPq de Brasil y SICA de España. Profesor de Doctorado en las Universidades de La Frontera y Austral en Chile; Universidad Nacional de La Plata en Argentina; y Universidades Autónoma de Barcelona, de Sevilla y Pablo de Olavide, en España. Director de la revista Perspectivas de la Comunicación.
POLITICAL ECONOMY OF COMMUNICATION AND CULTURAL STUDIES IN LATIN AMERICA
Editors
Francisco SIERRA CABALLERO
Carlos DEL VALLE ROJAS
(Eds.)
PRESENTATION
This Proposal is included into the publishing house collection Rowman &Littlefield "Cultural Studies and Marxism" by Jaafar Aksikas (Columbia College Chicago). These series of studies on Cultural Studies and Marxism is a worthy contribution to the widest field of contemporary Cultural Studies. Capitalist global crisis of the XXI Century has raised an updated interest for the critical Political Economy and the Marxist theory. At the same time, the publishing house institutions that are committed to the articulatory process of Cultural Studies, Critical Political Economy, and Marxism are nearly nonexistent. The call for papers assumes this situation and it precisely generates a space to get the intersection among those three fields of study.
The objective of this series is to publish important theoretical contributions, as well as empirical and historical ones as basis of a robust intellectual debate and a sharing of researchers' contributions of the cultural and critical studies. We are convinced that this Project is going to be an important contribution to the revitalization and renovation of the intellectual Project that is politically committed to the cultural studies. Also, this series is intended to be a contribution to the useful production of knowledge that allows us to change our social world and make it more human.
This series will be peer-reviewed and will publish original manuscripts. The purpose is to include a wide variety of voices, practices, formats, approaches, postures, and interests of the Critical Latin-American tradition in Political Economy of Communication and Cultural Studies.
JUSTIFICATION
The discovery of the self, as empowering of thinking and the Latin-American reality, results in the works of some authors, such as Luis Ramiro in the emergence of a new Communicology, in the recognition of difference and, at the same time, in the questioning and antagonism of the norm and the dominant thought of Western modernization and the neo-positivist hegemonic science in the North. For example, with the NOMIC movement and later the defense of the McBride Report, Latin America, headed by Luis Ramiro Beltrán, would lead the debate about the Access to information and the democratization of communication as a key component of the Human Rights, which would produce an inflection in the researching agendas. The philosophy of praxis is the reason that would encourage Ramiro to become the articulating axis of the front in the NOMIC, as the initiator of the Conference in San José, Costa Rica; and beyond, as the defense counsel of the systematic and integral concept of National Politics of Communication.
In this sense, editors of this collective volume invite los editores the academic Community to rethink the role of communication and popular cultures in the new scenery of global crisis of capitalism in order to diffuse and spread the scientific advances in Economy, politics, and structure of information, and the Cultural Studies that Latin America has been promoting from a differentiated and critical vision of subalternity or periphery.
Faithful to its networking tradition of articulating intentions and coordination of critical-reflexive efforts on the communication and culture field, this call for papers is aiming to perceive the most advanced thought in this matters, in order to formulate a critical-based theory, as well as the innovative analysis about the democratic emergences and alternatives of progress that have to be in accordance to the geopolitics in the region from new matrices and analytical tools.
AUTHOR GUIDELINES
The Proposal of this book will be sent, attached to this document, to a unified e-mail to the lists in ULEPICC, IAMCR, ALAIC y CIESPAL. Submissions of manuscripts: franciscosierra@ulepicc.org
Deadline:
Discussion and correction process: June-August, 2017
Final submission: September, 2017
This volume will be organized by two blocks or approaches:
I.- Theory and History of the Latin American Research.
II.- New Perspectives of Analysis.
Final Text / Submission Guidelines:
Manuscripts must be in english. They must contain the following elements:
Title
A brief Biography of the author (150-200 words).
Body text
Bibliography
Length:
Submissions should be between 8.000 and 10.000 words. It should include:
Title
Biography
Body text.
Bibliography.
Submission Guidelines: Submissions should be written in standard type: font Times New Roman, font size 12 pts., and spacing 1.0, A4 paper size. Submit the document in WORD format, prepared in strict accordance with the 6th edition of the Publication Manual of the American Psychological Association, APA.
EDITORS
Dr. Francisco SIERRA CABALLERO. CEO of the Center for International Superior Studies for Latin America (CIESPAL). Chair of Theory of Communication and Researcher of the University Institute for Studies in Latin America (IEAL), Francisco SIERRA is the head of the Interdisciplinary Group of Studies in Communication and Social Change (www.compoliticas.org), and Journal Publisher of Revista de Estudios para el Desarrollo Social de la Comunicación (REDES.COM) (www.revista-redes.com). He is an expert in politics of communication, new technologies, and citizen participation of the European Union. He has taught and given lectures as a guest professor in prestigious Universities around Latin America, apart from the several prestigious research centers and Universities in Spain, Portugal, France, and Italy. He is author of several books, sucha as: "Políticas de comunicación y educación. Crítica y desarrollo de la sociedad del conocimiento" (Gedisa, Barcelona, 2006) and "Elementos de Teoría de la Información" (MAD, Sevilla, 1999). He is the Founder and Member of the Board of the International Relations of the Hispanic Association of Researching in Communication (AEIC). Currently, he is the chairman of the Latin Union for Political Economics of Information, Communication and Culture (www.ulepicc.net ) and the temporary chairman of the Iberoamerican Confederation of Scientific Associations in Communication (CONFIBERCOM).
Dr. Carlos DEL VALLE ROJAS. Associate professor and Dean of the Faculty of the Educaton, Social Sciences and Humanities at the University of La Frontera, Chile. He is a Journalist, Bachelor and Master in Communication (University of La Frontera, Chile) and PhD in Communication (University of Sevilla, Spain). He is Postdoctorate in the Advanced Program of Contemporary Culture of the Federal University of Río de Janeiro, Brazil. He developed a Posdoctoral fellow in Communication at the University of Oklahoma, United States. He is member of the Scientific Executive Board of the Latin Union for Political Economics of Information, Communication and Culture (ULEPICC). He is member of the Consultive Board for the Latin American Association of Communication Researchers (ALAIC). He is researcher in FONDECYT from Chile and he is certified in CNPq from Brazil and SICA from Spain. He is Professor of Doctorate Programs at the University of La Frontera (Chile); University Austral of Chile; National University of La Plata (Argentina); Autonomous University of Barcelona (Spain); University of Sevilla (Spain) Argentina; and University Pablo de Olavide (Spain). He is the Director of the Journal Perspectivas de la Comunicación.